Living inland for all my life, I am not used to just walking down or driving down to the beach. So I like to take advantage of the great weather and try out different beaches in Auckland. My favourite beaches are most definitely on the Northshore and Rodney. I found the beaches in the South of Auckland a bit rocky, so I don't tend to stay for a whole day and definitely not so nice to play some rugby! So here is a list of my top 3 favourite beaches so far. Considering I have only been here for a short while. As I write this, I know there are still a lot of beaches to see and experience.
Long Bay Regional Park
This is a lovely park with lots of space for everyone and lots to do for the whole family. There is a massive playground for the kids and the beach has soft sand and it is a nice long stretch of beach. We like to go and have a BBQ on a Saturday and stay the whole day. The Dads and kids play rugby or cricket, while the Mums try and relax. Even if you do not have any kids, a few friends on the beach is always fun.
Orewa Beach
This has been by far, the busiest beach we have visited. When it is high tide, space is rather limited, but once the tide goes out, the beach is amazing. They also have a surf school and host various activities on the beach during the peak time. You will also see people setting up and enjoying a BBQ while kids play in the sand. They also have a great beach volley ball spot, as well as a basketball court to entertain everyone.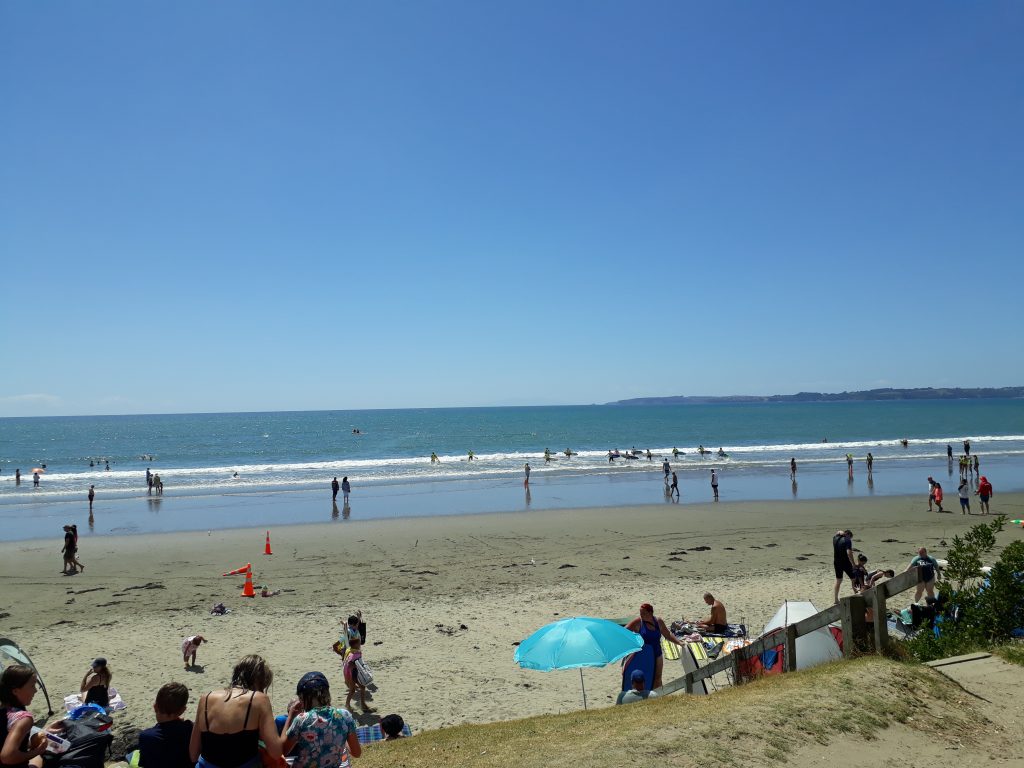 Murawai Beach
The black sand has a shimmer to it that is amazing and the sand is super soft. This is one of the most popular beaches for surfing, with the biggest waves I have seen to date, compared to the waves of the East Coast bays. But be warned, the current is extremely strong and on a warm day, wear your flip flops/jandals; because as beautiful as the glimmering sand is, it is extremely hot.