After four days well spent in Sydney, I then headed to the South Island. A quick flight Sydney-Wellington over night was followed by my alarm at 4.30AM to book the earliest ferry to the South Island (arrival at Picton).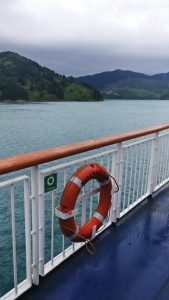 The Ferry
We booked the ferry almost a month and half in advance, simply because December is one of the busiest times to go South, and because we had a car. I would suggest to plan ahead: the ferry can become quite expensive if you are the 'not gonna book things in advance' type of person. It was already $300 each (return and car included) and it was the cheapest tickets we could get, but also the most expensive ones available. That means we were quite late to book them. And if money isn't an issue for you, just think that they were also the last ones at this price. So lesson learnt for my next trip: book in advance – because, even when you don't know where your trip is going to lead you, you usually know when it will start.
Plan the beginning and the end, it will save you a couple of hundred dollars.
On the ferry, you need to know: TAKE A SEAT. Run, fight for it but if you don't get a seat at first, you will end up on the floor, and if you thought like me that taking the earliest ferry was a good idea, you will sleep on the floor. Other than that, if you go on the top or the front of the ferry, you can appreciate a great view, sometimes dolphins and incredible New Zealand.
Picton will finally welcome you with what will look like fjords, crazy blue water and rays of sunshine – if you are lucky.
The Drive
The drive from Picton to Nelson is just under two hours and 110km. There are a few nice stops along the ocean and the rivers (especially Pelorus River). Take your time and enjoy your first steps on the South Island. The trip to Nelson isn't long anyway. Because we didn't want to arrive there before lunch time, we went a bit North to Okiwi Bay. We first thought we could go all the way North to the French pass – and not because I was French, we just saw some amazing pictures on Google.
However, driving in the mountains is more tiring than on a flat road, and we didn't want to have to drive three additional hours just for the pass, so we stopped in the middle of the trip in Okiwi Bay, had a short walk around the bay before heading to Nelson, where I literally crashed, exhausted on my bed.
Nelson
Nelson is one of the biggest cities in the North of the South Island. Quite isolated – like almost everything in the South Island to be honest – you still have quite few things to do in the area.
Few walks: the small CBD is cute, and you have a few short walks around the area. We couldn't do them as it was raining, but it's an option. Nothing crazy, though.
Wine – Nelson is a great place if you like wine as there are many wineries to choose form. Take a day and go for a few wine tastings, but don't forget that someone has to drive home!
Beach – Nelson has a very long beach, a great one for a relaxing day. With beers and friends, nothing could be better!
Check out the next part of my trip – Abel Tasman surroundings – here.
Check out my full trip here.
And come back next week for the next instalment.