I know, as I write this, it has been raining a lot these last few days. However, summer is coming and Piha and Kare Kare are two great spots for an afternoon out of Auckland. Never heard of these places? Time for a quick summary of what these beaches have to offer!
What to do?
Relax and walk on the beach. Piha is a very long beach and it won't be overcrowded like European beaches would be. Enjoy your walk and wait for the sunset!
Have a look at the waterfalls a few minutes away in Kare Kare. It's only a 10 to 15-minute walk.
Be ready for few uphill hikes in Piha if you want to have a view from the top. The paths are not that difficult but with flipflops (called jandals in NZ and thongs in Australia), it could be a bit difficult. These views are definitely, what I thought were, the coolest ones in Piha. A must-see.
Eat in one of the cafés along the road on your way back. Most places have a nice lookout on Auckland City and the countryside.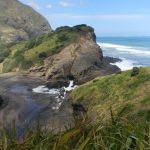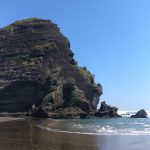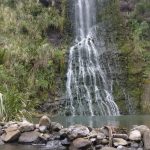 What do you need to bring?
Your lunch, water and snacks. There is no restaurant close to the beach, so consider buying supplies in Auckland or on your way to Piha and Kare Kare.
If you want to do the short walk involved, the flipflops won't make it easy, especially in Piha.
Sunscreen, sunglasses and hats. Sun's out, they have to be out too!
A towel. Do I really have to explain the reason why?
Kare Kare and Piha are only 15 minutes away from each other by car. From Auckland CBD, it will take about 40 minutes to get there.
Let us know your favourite weekend destination!